Given the current situation, you would expect me to write something about telework, right? Don't I promote TDM to employers along the I-66 corridor, during construction on I-66 outside the beltway, as a major part of my job?
Yes, I do, however, I won't be talking about that today. Besides, I've written enough about telework, and Veronica did a great job covering that subject last week in Making Telework Work. (Btw: don't hesitate contacting me at 571-402-4313 if you have any questions about the Transform 66 telework subsidies. J )
No, I want to reminisce about jaunts on my bike as we are being encouraged to stay inside and practice social distancing if you do go out. I am referring more specifically to riding my bike on my commute to work. I saw MWCOG Commuter Connection's latest  promotion of Bike-to-Work day which is scheduled for May 15, 2020. It made me realize how much I miss biking to work.
Strange I would be thinking about that since very few people are going to their office or place of work right now. Well, Bike-to-Work 2020 is less than two months away and I'm recalling the days I rode into work and participated in some of the early Bike to Work events in the mid '90s. (Oops! I inadvertently told you how long I have been living and working in the D.C. metro area.)
I know Bike-to-Work 2020 may be postponed, but since I haven't ridden my bike to work in a long time, it got me thinking how much I miss it.
I won't go into why I don't ride to work currently, but when I worked downtown, I used to ride to work from Arlington, VA, during the summer months, though not every day. Yes, many of you hardcore bike-to-work commuters would scoff at riding only a few days a week, but I really enjoyed doing it when I felt it was right for me. During the day I felt refreshed and invigorated. It helped that I had access to a shower, of course. I would not have done it without one in consideration of my office mates. JJ
In a small way I thought I was doing my part to help sustain our environment while I was saving money on either gas, wear and tear on my car, or not having to pay metro fare. The thing I missed the most is the feeling of accomplishment. None of us like to admit it, but we do have days when we feel like we didn't accomplish very much. Well, when I rode my bike into work, I felt like I accomplished something right away. It gave me a boost taking on the various challenges that the workday would throw at me.
I found my ride into work to be somewhat therapeutic, especially when my excursion led me along the Potomac River on a bright sunny morning. I don't think you can do this anymore, but one of my routes took me through Ft. Myer and the Arlington Cemetery. I looked at it as my way of paying respect to those who fought for our country, and in many cases paid a dear price for our freedom. My route would also take me by the Jefferson Memorial, and sometimes past the Great Awakening at Haines Point when I felt frisky enough to ride a few extra miles. Sad to say, the Great Awakening is no longer there.
When I first started riding to work, I would cross the Memorial Bridge and ride past many of the tourist attractions we are familiar with including the Lincoln Memorial and the Reflecting pool. In fact, it was there that I remember hearing one of the most bizarre comments from a tourist I had ever heard. She said, "This is where Forest Gump was." Sigh. Not quite how I envisioned why someone should remember the Lincoln Memorial.
As I rode along the Mall to the office, I saw the Washington Monument, the White House, the Capital, and, of course, I would sometimes take a jaunt to the Tidal Basin to see the cherry blossoms when they were in bloom. These are landmarks that most people see only a few times in their lifetime, if at all. I was seeing them up-close and personal all the time on my regular rides into work.
Flash-forward to today when experts are encouraging us not to go to our place of work, or anywhere at all, unless absolutely necessary. Well, there is no reason you can't get out on your bike and go for a quick spin during the day, making sure you get your appropriate allotment of work hours in for the day, of course. You can bike alone or with a few friends. This is especially important when your gym may be inaccessible. If you don't like to bike, go out and jog for a mile or two, or go out for a brisk walk. Just get outside and get some fresh air!
I had to admit I was feeling like I was in some sort of a funk over the past few days. But I got out on my bike this past Sunday, and it felt like I was alive and free for a couple of hours. It was great just to get some fresh air and not hear the constant barrage of bad news about the Coronavirus! Please check out what the CDC recommends regarding outdoor exercise during the coronavirus.
So, my recommendation to you is get some fresh air and consider signing up for Bike-to-Work day. Could be a good first step! Even if they do postpone or cancel the event, simply signing-up is a sign of commitment to biking and/or getting some exercise. Who knows, you may see me at one of the Pit Stops. But first I must figure out the best route to get to VDOT in Fairfax, VA, from my home in Arlington. In the meantime, stay safe everyone.
Shout it from the Roof Top. Tell all your friends. Spread the news….Have I used enough clichés? The new Commuter Connections' 2019 State of the Commute Survey Report, that was released last month, revealed some important findings.
The report found that "Drive-alone commuting continues to decrease, while alternative modes of transportation, including transit and telework, are on the rise among commuters in the D.C. region." Before we get too excited, it also mentions that driving alone still continues to be the primary mode in the region. But the percentage of Single Occupied Vehicles (SOV) has dropped from 71 percent in 2004 to 58 percent in 2019.
Over the same period, transit use increased from 17 percent in 2004 to 24 percent in 2019. The major portion of the new percentage increase was Metrorail. The remainder was Commuter Rail at just over 1.5% and bus at just under 6%. Not surprisingly, telework almost tripled over the period and other modes such as carpooling, vanpooling and Bike/Pedestrian remained the same.
But this isn't the only good news I recently heard. Yes, there is more news about commuter options.
First of all, I know what you'll say next in response to this development. You will shrug and say, "of course SOV usage is declining in the NOVA region. There are so many more commuting options available in metropolitan areas such as the DC region. But in suburban or more rural areas, the only option that is available to commuters is the SOV. People in rural areas don't have access to anything like Metrorail or a robust bus service."
Well, you would be wrong melon head. Sorry, I slipped into my Johnny Carson persona for a moment. Am I dating myself? I recently read an article that was more encouraging to me, in some ways, than the Commuter Connections draft report. A new vanpool program is being introduced in the Lynchburg area in Central Virginia. The program is set to launch sometime next year with the goal of providing an alternative transit method for employees who live 20 or more miles from their job.
What got this going? Well, in September, the Central Virginia Planning District Commission (CVPDC) received a $72,000 mobility grant from the Virginia Department of Rail and Public Transportation (DRPT) for a vanpool program for employees in the region who live farther than 20 miles from their work. DRPT provided 80% of the grant while CVPDC provides the other 20% — $18,000 over the next two years. The commission represents the city of Lynchburg and the counties of Amherst, Appomattox, Bedford and Campbell, VA. The grant helps to pay for fees associated with rental of the vans rather than the actual purchase.
From this article, it is clear that community and business leaders saw vanpools as a valuable commuter option for a region like Central Virginia because it can reduce employee costs while cutting down on congestion. They are especially helpful to a workforce that may have limited public transit options and to a region that has a number of companies that use shift work in its operation. In essence, decision makers determined that vanpools provide access to employment in the absence of other viable options, other than driving alone.
I commend the Central Virginia region for moving forward in this initiative. It goes to show that alternative commuting options aren't unique to just urban areas. With a little innovative thinking and a little bit of funding, you can go a long way in addressing a transportation need in your community. You can rest assured that transportation challenges will continue to be an issue for decision makers and planners in both rural and urban areas, especially as populations get older and driving alone simply is not an option anymore.
Written by nspiregreen on December 12.
Have you ever heard the phrase, "every little bit helps?" It is a shame there are things we want to accomplish but we get discouraged because certain goals seem insurmountable. We may not realize that some of the things we already do may help reach that goal.  For instance, I got back from a trip to Galapagos Islands a few months ago. And as I was thinking about the trip, it occurred to me that the Galapagos Islands are like a naturalist paradise. As we make commitments to address climate change (big or small), we are moving closer to the goal of reaching a naturalist paradise of our own.
In looking as something as insurmountable as resolving climate change, it's always a good idea to break a goal down to various phases or parts and strive toward intermediate steps of success. Even if solving climate change seems to be unrealistic, the various steps one can take to help reach that goal is not unrealistic.
One good example of this in the transportation world is  the "Vision Zero" campaign. I remember when it was called "Toward Zero Death" way back when. The idea is to set a goal of achieving no traffic fatalities and serious injuries from car crashes over a certain number of years. One's first reaction is that it is an unattainable goal. OK, but then you tell me if there is a group of people whose life we can accept losing on the highway or local streets, since this goal is so "unattainable?" Could that be your wife/husband or significant other, child, parent, good friend, even an acquaintance? You can't really identify someone to fit into that particular group. So we set about working with key partners and stakeholders to redesign dangerous intersections, install traffic calming devices such as roundabouts, reduce the speed limit, install pedestrian road crossings, etc. We may not reach the ultimate goal but we will probably see success in reducing traffic fatalities.
Again, the Galapagos Islands are a place where humans and animals live mostly in perfect harmony in the natural environment. If that is the ultimate goal of completely addressing the impacts of climate change, any steps toward doing that is well worth it.
My trip to the Galapagos Islands, off the coast of Ecuador in South America, was in the early part of May, 2019. We visited the islands of North Seymour, Bartolome, Rabida, Fernandina, Isabela, Santiago, and Santa Crua. I was excited to see many species of plants and animals and had various opportunities to see them both on land and in the water. I will also say that some of the islands had very little transportation infrastructure, if any at all. In other words, I didn't experience any rush hour unless you count the group of Orcas we saw one morning as we crossed the equator on the fourth day of our trip.
I went on this trip with my sisters Virginia and Karen and my brother-in-law Stephen. I had no idea what to expect but I was pleasantly surprised with the sights and the activities of this trip, and will always remember it. We were able to witness nature whether from a shoreline tour on a zodiac boat, snorkeling along some of the inlets, doing a short hike along some of the natural trails and beaches or kayaking along the shores. One thing I like about traveling is being able to share my experiences with friends and colleagues. And boy did I take many pictures.
I won't kid you, Galapagos has had its own issues in the past in which humans have introduced invasive species that have threatened the islands. But many foresighted naturalists and scientists have been able to mitigate some of those impacts, preserve the Islands and closely manage human interaction through limited tours. The wildlife is so used to visitors they don't view humans as a threat and rarely scatter when you approach them. Nothing like being up-close and personal with a Blue Footed Boobie. Or a Sea Lion.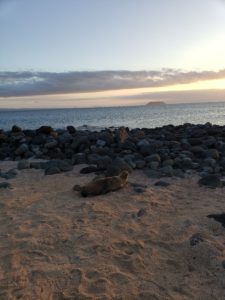 In fact, when we arrived at the hotel in Guayaquill, Ecuador and as we were about to take the trip from Ecuador to the islands, we were issued a transit control card. This card was given to all of us and was issued by the Government Council for Galapagos as a measure towards "sustainable human development and conservation of the Galapagos Islands." I looked at the card as similar to a permit to enjoy the entire this natural paradise while at the same time maintaining its integrity and natural beauty.
What can this trip teach us about the importance of climate change? Whether you believe in the impacts of human behavior on climate or not, any action you take or day-to-day practice you follow that helps reduce the carbon footprint is a good thing. It surely doesn't hurt.
Now, I am not pushing major policies, such as Cap and Trade, that are being hotly debated right now. It is clear to me we will have to make critical decisions in the future and we need to understand what are the ramifications of action and inaction in addressing climate change.
For the sake of this blog, I just want to point out that you yourself may already be doing your part in addressing climate change. Whether you carpool to work over driving alone, or compost food scraps instead of throwing it out into a landfill, recycle cans and bottles, walk to the store instead of drive, we are all doing our share to maintain natural integrity of our environment as best we can. Can we reach the ultimate goal of a Galapagos Islands in your neighborhood? Of course not, but in these actions, we are doing our small part in making the world a little more sustainable and a little more pleasant to live. We are helping to preserve our environment for future generations.
By the way, my favorite part of the trip was the last day when we visited the Charles Darwin Research Station, located near Puerto Ayora on Santa Cruz Island, to see the big turtles.
We went to the center not only for the big turtles, but to see how the station raises young giant tortoises and then releases them into the wild. We saw some of the small turtles in their pens. This program is run in conjunction with the Galapagos Park Service. Since 1970, more than 2,000 tortoises have been hatched, raised and released. Later we went to a nature preserve in Puerto Ayora and were able to see the large turtles in their natural habitat. Again, we were able to be with the turtles, up-close and personal.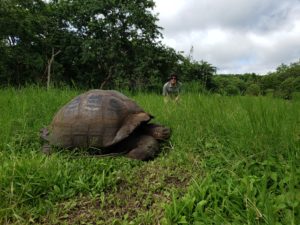 Written by nspiregreen on August 21.